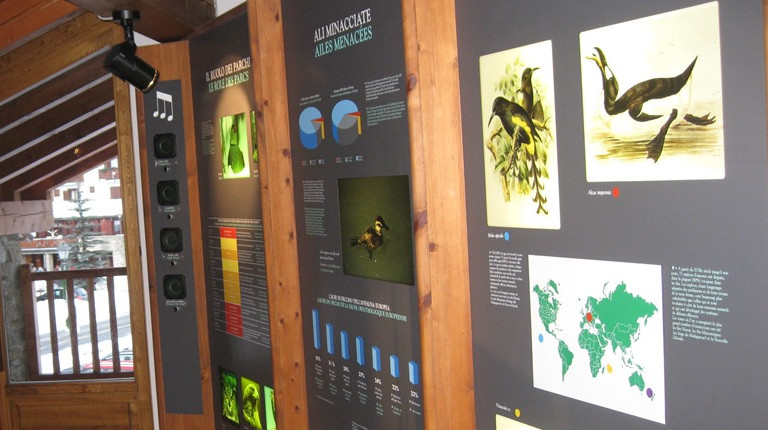 Gran Paradiso National Park Visitor Centre - Rhêmes-Notre-Dame
Gran Paradiso National Park Visitors Centre of Rhêmes-Notre-Dame tells an enthralling story: the Gypaëtus Barbatus  (Bearded vulture), the biggest European prey bird, has returned to the skies of Gran Paradiso National Park. The visit goes back through the years and explains all the stages of this story: the dramatic extinction, the slow steps building up to its emotive return and finally, the wonderful happy ending: the permanent presence of this characteristic bird in our skies.
Moreover, Rhêmes-Notre-Dame Centre offers visitors the chance to have an in-depth knowledge of the whole avifauna of the Gran Paradiso National Park territory.
The Center has been enriched with a multimedia station, completely no-touch: by entering a new immersive environment one can experience the ascent to the summit of Gran Paradiso in 360° virtual reality: it's Gran Paradiso VR- The experience of Nature.
The Visitor Centres of the Park in Cogne, Valsavarenche and Rhêmes are also designed as "Alpine Convention Information Point", where visitors can find information and documentation about the Alpine Convention. Read the Agreement memorandum between the Secretariat and Fondation Grand Paradis.